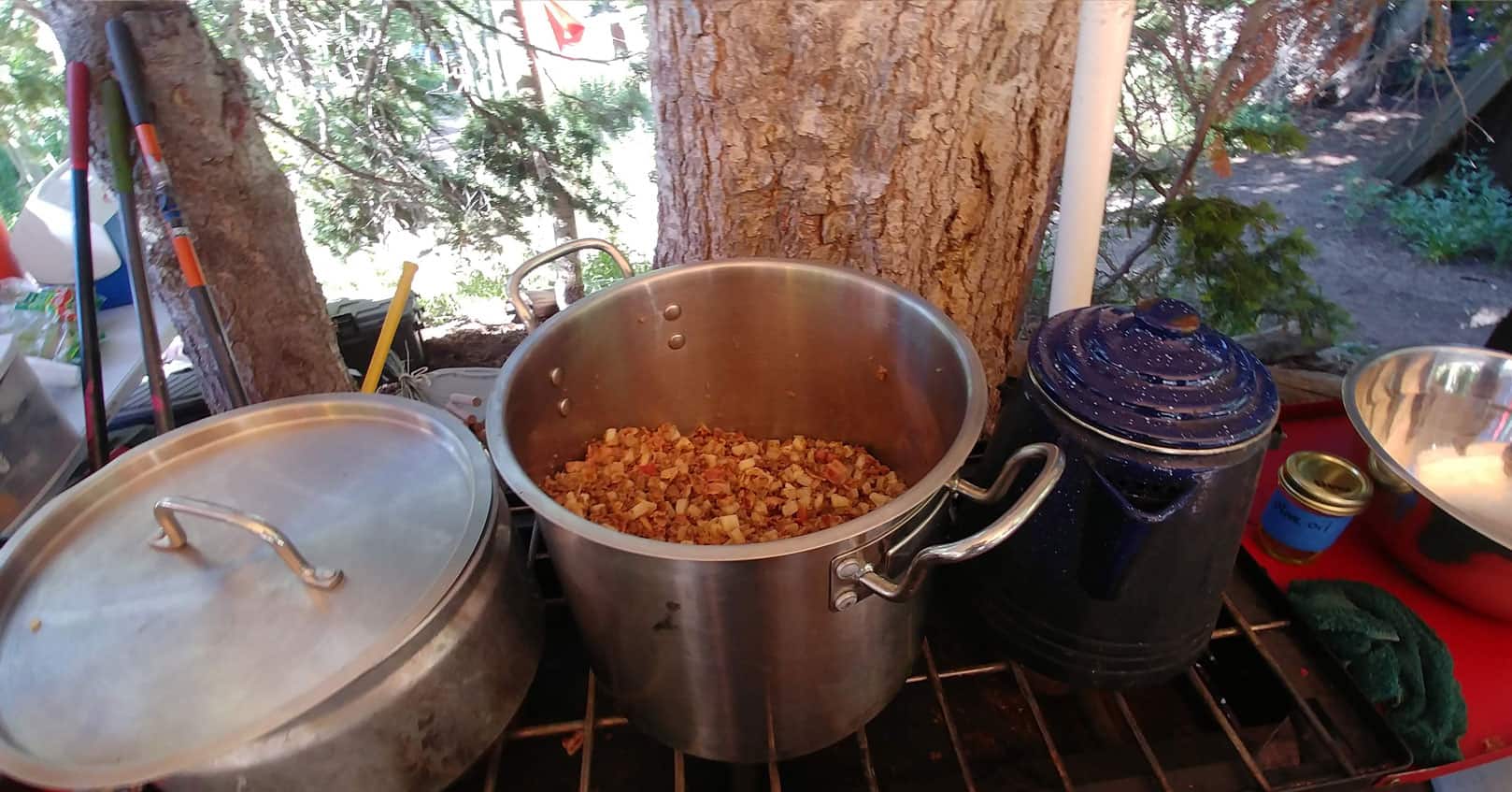 Since readers have asked for it, here is a bacon mash recipe even kids will love. In fact, it's one of my kids favorite meals. All seven of them will eat it and most really love it. Score for me!
History
This bacon mash recipe came about when I was trying to throw together something reasonable healthy and filling—and that my picky kids wouldn't turn their noses up at. That happened too much at my house in the old days (and did until I decided if they didn't eat what I made, they could make sandwich or whatever themselves).
So one night for dinner, I threw things I had in my freezer together, added a little bacon (because who doesn't like bacon?), and voilá, they ate it all. I was amazed, and a little bit proud.
No relation to similar name recipes
Even if the name "bacon mash" resembles the name of another recipe, or the ingredients, that is completely accidental. I simply made it up!
Eating bacon mash at camp
Last week I went camping with my fourteen-year-old daughter, Liana, and a bunch of other teen girls. It was fun, except for the fact that I was responsible for the food. I'm a great writer but not much of a cook. Fortunately, they wanted simple things like breakfast burritos, grilled cheese sandwiches, spaghetti, and pork salad (the pork we bought from a restaurant). So no one went hungry or was poisoned.
My daughter, of course, wanted bacon mash, so we had if for breakfast one morning after a hike. We usually eat it for dinner, but it's really good for any meal. All but two of the eight leaders and fourteen girls ate it, and that's because they're vegetarians. Some came back for seconds. Score! I was seriously worried because my daughter loves it so much and it means a lot to her that her peers enjoyed it.
Since I took pictures of the bacon mash we made at camp, that's what I'm including here, but we normally just make it in our kitchen at home on the stove.
Why the name Bacon Mash?
I called my creation bacon mash because calling it "bacon" makes it more attractive. And because it sounds cooler than "hamburger mixture," which is what I first called it. Also, the mixture sort of mashes together, especially until my husband stepped in and perfected browning the hash browns in the oven a bit first. But Liana loves it so much, we are now calling it Liana's Bacon Mash.
Bacon mash recipe even kids will love
1 Pound of hamburger
2 bags of frozen southern style hash browns (24 ounce bags of large diced, see picture)
12 pieces of cooked bacon (I use the pre-cooked from Costco for less mess), chopped to 1/4 – 1/2-inch pieces
1 half onion, diced small
2-3 eggs (I use 3 small or 2 large eggs)
Olive oil
Salt, pepper, and garlic powder to taste
Directions
Spread the hash browns out on two cookie sheets greased with a bit of olive oil, sprinkle with salt, and put in the oven. You want to brown them slightly but don't make them too hard.
While those are cooking, place the hamburger in skillet with the diced onion, salt, pepper, and garlic powder. If your meat is very lean like the kind I buy, you'll need to first put a little olive oil in the skillet. Stir meat as it cooks with a wood spoon, dividing to very small pieces. Don't let them burn! (Haha, this is reminder for myself, not you!)
When the hamburger is almost finished, add in the pieces of pre-cooked bacon. Cook until the hamburger is done. Then added in the lightly browned hash browns. Mix. Crack eggs into the pot and stir them into the mixture over a low heat until the eggs are cooked. This adds moisture and sort of binds it all together.
Serve immediately. Some people like it plain (like Liana), some people like it with ketchup (my other kids), and I love it with a bit of mustard.
Adjustments
You can easily adjust the amount of any ingredient if you feel there is too much of one thing or the other for you. Fewer potatoes, more eggs, less hamburger, more bacon. You get the idea!
Please comment below to let us know if you plan to give this a try, or if you know of a similar recipe. Thanks!

Copyright 2018 Teyla Rachel Branton
Reuse notice: you are free to print Liana's Bacon Mash, Recipe Even Kids Will Love for personal use or non-commercial use with friends, share this post link anywhere, quote a short excerpt with attribution and a link to this site, but you may not use this post in its entirety on your own page. Thank you for caring about copyright.