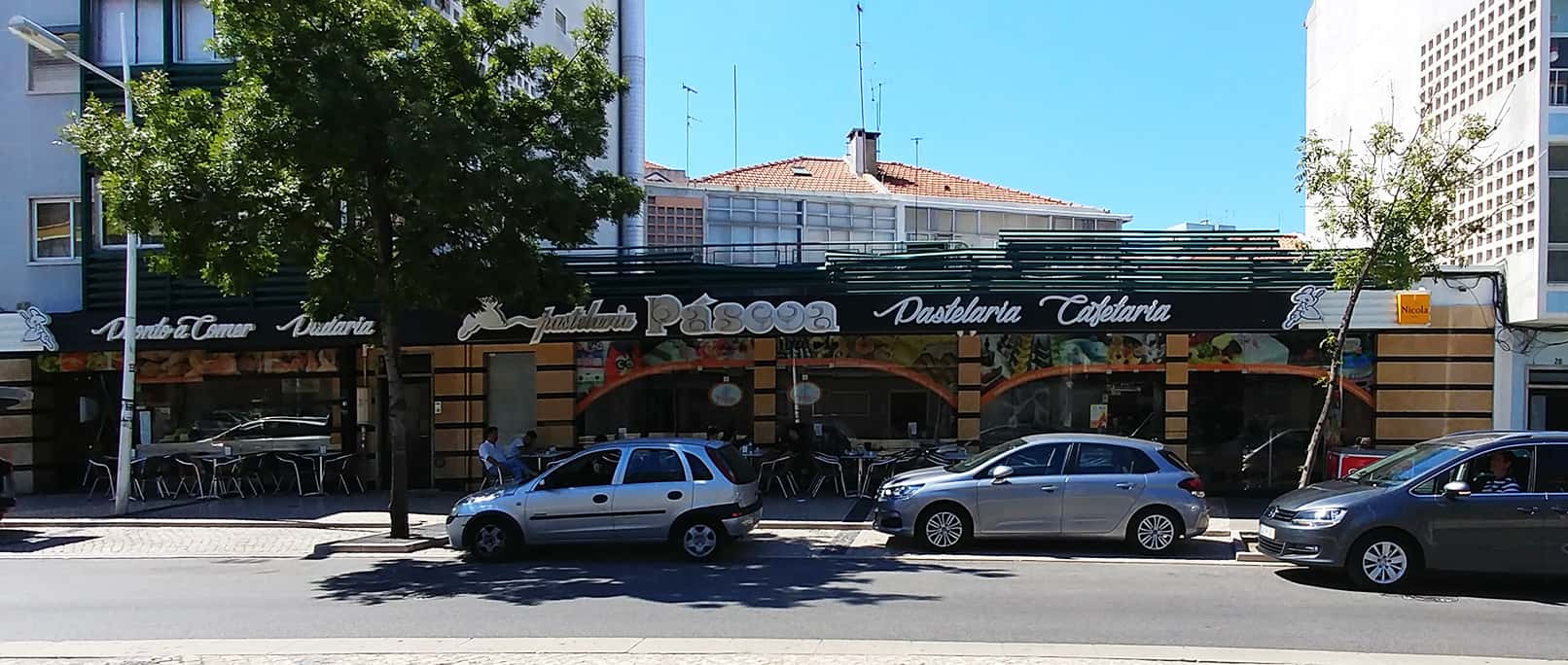 Pastelaria Páscoa in Almada Portugal, is my favorite pastry shop in Portugal
Since I've talked before about my favorite pastries, mil folhas, I thought I'd share my favorite pastry shop in Portugal where I normally buy them. It's a good little walk from where my mother-in-law lives in Cova da Piedade to Almada, but in this case, we drove. That's my husband in the van on the right, waiting for me to take the picture.
Below, an employee at the Pastelaria Páscoa, wraps up a few of my favorite pastries, mil folhas. My two oldest girls and my sister asked me to bring a few home. And of course my youngest, Lisbon, and I had to have some too! I've tried a lot shops but this is my favorite pastry shop in Portugal. Yes, I've had other good pastries, but also some really awful ones. This place is consistently good—and not just for mil folhas. At anywhere from .85 to 1 Euro, they are more than four or five times less expensive than those I can find in the States.
By the way, I'm usually a stickler for speaking Portuguese when I'm there, but this guy LOVES English, and it made him happy to practice speaking with me. He learned English from TV and video games.
By the way, he has a woman friend in Texas, which is why he wants to go there. I have no idea why he'd ever want to leave my favorite pastry shop in Portugal, crammed full as it is of all the pastries he can eat, lol! Seriously, though, I think he's sweet on her, so if you know anyone in Texas who is talking with a Portuguese guy in Almada who works in a pastry shop, tell her we have this video.
We also brought these
And these
And a few more from this great pastry shop in Portugal

This picture shows all the pastries we brought home to America. Yeah, we had four containers that we took in advance to this pastry shop. The box containers they give are actually better for keeping the pastries, but they wouldn't survive on a plane. The only problem is that when you buy them in bulk this way, invariably they turn out a bit smaller than in the shop. But it's still worth taking a taste home.
Yeah, I might be a little nuts, but keep in mind the last time I was there was four years ago! That's a long time to wait for mil folhas. I packaged them up in wax paper and into the freezer they went. So far, only the ones we gave away have been eaten. Wonder how long that will last! (Update: by doling them out slowly, they lasted exactly one year!)
I'll be posting more pictures soon. But for now, I'd better get back to writing! Meanwhile, if you ever get to Europe, try to stop in at my favorite pastry shop in Portugal. Tell them the crazy American said hi.

Copyright 2017 Teyla Rachel Branton
Reuse notice: you are free to print for personal use or non-commercial use with friends, share this post link anywhere, quote a short excerpt with attribution and a link to this site, but you may not use this post in its entirety on your own page. Thank you for caring about copyright.