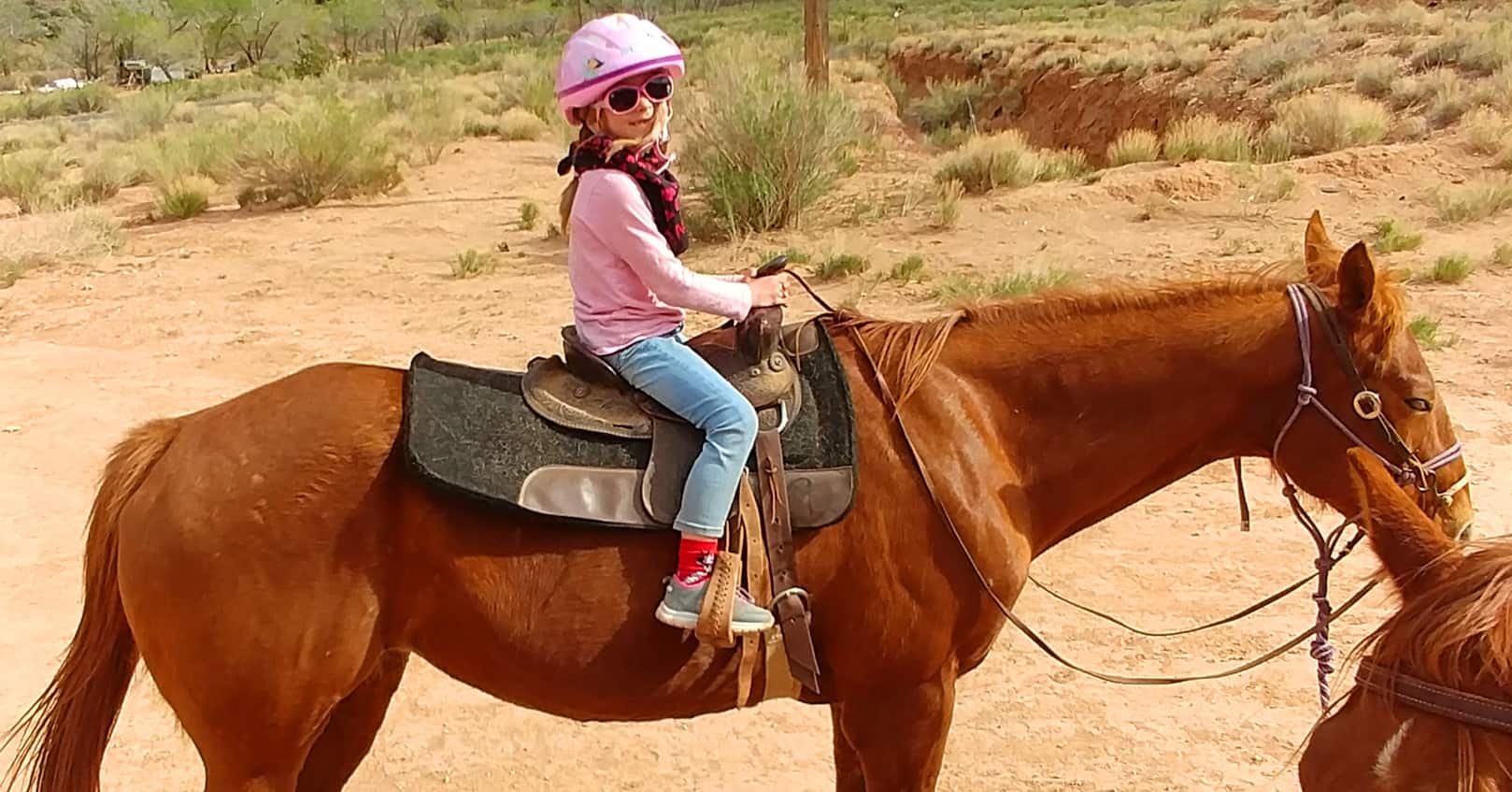 If you're thinking of taking children horseback riding, and you don't have horses or experience, you can still find a relatively safe place that will let you ride. Be sure to read online reviews of the places and get a feel for what it's like. Here's our experience taking the children to Jacob's Ranch.
On the first day of spring break, I said to my husband, "We should really thing about taking the girls somewhere fun." I actually can't remember ever going anywhere on spring break, probably because it's hard to travel with so many children. Now with two boys in college and three out on their own, we only have two at home, and everyone else in the neighborhood had marvelous plans. It was time for us to join the spring break crowd.
My fourteen-year-old, Liana, really wanted to ride a horse. Lisbon (six) was nervous about it, but agreed if she could ride with me. My husband and I also liked the idea. Plus, every experience is good for writing, so  why not? The next day we took off for warmer pastures in our Honda Pilot. We ended up in St. George, Utah near Zion National Park.
Can they ride alone?
Of course fourteen-year-old Liana wanted to ride alone, and I thought it might be good if six-year-old Lisbon tried riding alone for a bit too, so I picked out the most easy-going horse for her. She was named Miss Kitty, and Lisbon adored the name. I put a bicycle helmet on her for safety.
But just in case Lisbon wasn't okay going alone, I picked out a strong, placid horse for myself that could hold double. His name was Cheeto. Yeah. And he acted like he'd eaten far too many of them. He was slow. In fact, I managed to get him going in a gallop only twice for about thirty seconds. He was lazy or old. Or more likely both.
Did they like it?
Lisbon ended up loving the ride and went the whole way alone (the guide did have lead rope on her horse). My husband who was on a huge Clydesdale also had a great time. But poor Liana wasn't so lucky. Something was wrong with her stirrups, and the the guide didn't understand (or believe her?), and so Liana's knees hurt badly. Once when we were stopped, she took her feet out of the stirrup to rest her knees, and at that moment the horse spooked, skittered away, and Liana fell off.
Yes, she FELL OFF!
But she was okay. The breath was knocked out of her, and she was bruised and sad, but she was okay.  We didn't even have to take her for X-rays, which my mother had to do when I fell off a horse as a kid (holding my little sister, no less, who didn't even bonk her head).
Trading horses
After Liana fell, I traded horses with her, and almost immediately, my knees started to ache. No matter what they did with the stirrups, I hurt. It was hugely annoying. By contrast, Liana's knees were fine on placid old Cheeto. Liana's enthusiasm was very much muted after that, and several times my husband or I would circle back around when she fell behind. (See the picture on the right with Liana on Cheeto.)
And me? I was a bit of a nervous wreck. Me who loves horses and who feels comfortable on them normally. I had to be constantly vigilant, making sure the girls were okay. Taking children horseback riding was stressful! When the guide said my husband and I should go with the faster group, we declined. We didn't know her from a stranger on the street, and we weren't about to leave the girls, especially after Liana fell. I wanted to make sure everyone kept their feet where they should be.
Bottom line, I don't think I'll ever take children horseback riding again in that sort of setting. But if I did, I would make sure no one's knees hurt. The guide should have been more vigilant, or my daughter more complaining, but at least she's okay. She doesn't want to go again, though. I feel like we dodged a bullet. Looking back, I'm not sure that taking children horseback riding was the right decision, but Lisbon sure loved it. In a heartbeat, I'd go again myself.
I told Liana I was sorry for taking her, but she said, "What do you mean? Falling off a horse is the coolest thing that ever happened to me."
Go figure.
Do you have an experience taking children horseback riding? Let me know in the comments!

Copyright 2018 Teyla Rachel Branton
Reuse notice: you are free to print Taking Children Horseback Riding for personal use or non-commercial use with friends, share this post link anywhere, quote a short excerpt with attribution and a link to this site, but you may not use this post in its entirety on your own page. Thank you for caring about copyright.