I hope you are almost ready for Christmas! I am working on two books at once, which is something I rarely do, but I'm anxious to have them both out. I thought I'd have excerpts up on my website this week, but that won't be until after Christmas. Thank you so much for your patience and support.
As to why the delay . . . here's a little story about the best Christmas present. Now there are many kinds of gifts, but some lead you to remember what is truly important, and those are the kinds of presents that stay in your heart . . . well, forever.
The Best Christmas Present
One memory I have as a child is of a snowy winter when a cat abandoned a litter of kittens in our carport. My father brought them inside, put them on a towel on the heater vent and fed them with an eyedropper. This stands out to me because my father didn't particularly appreciate the cats (ours or the strays) or how many litters they kept dropping, but he couldn't stand to see the tiny blind kittens mewing for help.
I don't remember if the kittens survived. But my father bending over them, with compassion in his eyes, is something I will never forget. This was the kind of man he was.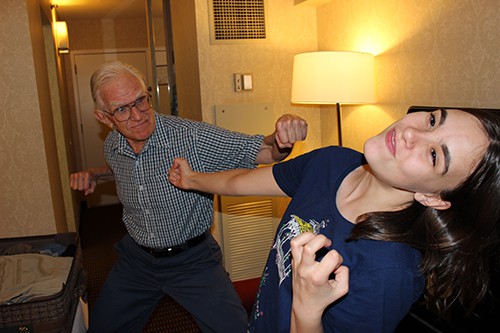 My dad play fighting with one of my daughters in March 2015.
In November 2015, my dad went into the hospital with his seventeenth bleeding ulcer. He had a gastric bypass (his second) and was in the hospital for three weeks. Several times we thought we'd lose him, which seemed unbelievable because it had been five years since his last bleed and he was incredibly careful with his diet and exercise. Two of my sisters and I took turns sitting with him around the clock. At one point we called all eight children to come to say goodbye. Thankfully, he pulled through. We know that our support was the deciding factor in his survival.
Déjà Vu
Two days before Thanksgiving this year (2016), the day after he turned eighty, my father was in the hospital again. Surprisingly, this time it wasn't with a stomach bleed but with double pneumonia and heart issues. They gave him antibiotics, but besides that there is little they can do. Because my dad has had fifteen surgeries for his many stomach bleeds and can't take blood thinners, he can't have the surgery he needs for his heart.
He was only in the hospital a week this time, and my sister Mary split that time with me at the hospital. I remember coming home at seven Thanksgiving morning and putting in the turkey for the family and relatives that would soon arrive, but the real Thanksgiving was in my heart. As I sat in the hospital, caring for him, rubbing his back with ointment, chatting, or getting him something to eat, my strong father was every bit as helpless as a blind little kitten. I stored away all those little memories, grateful for that time with my dad, my best editor, my friend.
How much time it will be, we don't know. The plot of this story is not yet decided. But he's much happier at home, so maybe the doctor's estimation of six months will be off. I'm betting on him, that's for sure. He's already up and walking laps around the house and researching alternative medications.
This year for me Christmas came early. My father is the best Christmas present.
Your Best Present?
I would love to hear what your best present was, even if it didn't come at Christmas. Drop me a line if you find the time, or post here.
I hope you have a Merry Christmas!
UPDATE October 27, 2022
We lost my father on October 25, 2022, a month before his eighty-sixth birthday. His heart managed to hang for six years instead of the six months the doctor predicted. He spent a little over two weeks in the hospital this time, and for one of those weeks I fly home to be there with him every day. He was determined to go home, and he died the night they released him from the hospital.
My heart is broken, and it seems the world has stopped spinning as I grieve. Still, I am grateful for the extra years we had with him. I tell myself, as my heart aches with a pain that is both emotional and physical, that he at least is no longer in the great pain he dealt with every day. That is is now with his beloved mother and my youngest sister Sarah. My husband says he stayed this long for us. Maybe so. I still don't want to let him go.
My parents at the 2022 Fourth of July Picnic.

Copyright 2016 Teyla Rachel Branton
Reuse notice: you are free to print for personal use or non-commercial use with friends, share this post link anywhere, quote a short excerpt with attribution and a link to this site, but you may not use this post in its entirety on your own page. Thank you for caring about copyright.